Dr. Stanley R. Mohler
The recipient of the 2015 Lifetime Achievement Award was Dr. Stanley R. Mohler (1927-2014). Dr. Mohler was the Director of the FAA Civil Aeromedical Research Institute (1961-1965), the Director of the FAA Aeromedical Applications Division (1965-1978), and the Founder and Director of the Wright State University Aerospace Medical Residency Program (1978-2004). He published over 300 articles and made enormous contributions in Aviation and space medical standards, Accident investigation, Pilot protective equipment, and Pilot aging and stress. He has previously received several of the highest awards given by AsMA, including the Boothby, Mosely, Lyster, Bauer, Magvingt, and Presidents Citation. He also received the Space Medicine Association's Strughold Award and the Society of NASA Flight Surgeons' Presidents Award. Above all, he was a friend and mentor to most of the individual members of the Space Medicine Association.
Anatoly Ivanovich Grigoriev, M.D., Ph.D., D.Sci.
The recipient of the 2015 Jeffrey P. Sutton Scientific Achievement Award is Anatoly Ivanovich Grigoriev, M.D., Ph.D., D.Sci. Dr. Grigoriev is the Vice President of the Russian Academy of Sciences and the Scientific Director of the Institute of Biomedical Problems (IBMP) in Moscow. He has held these positions since 2008. From 1988 to 2008, he was the Director of IBMP. Academician Grigoriev is one of the founders of gravitational physiology, and has made significant contributions to our understanding of fluid and electrolyte regulation, orthostatic instability, adaptation, deconditioning, and countermeasures associated with human space flight. His life-long scientific work has had seminal impact in resolving both fundamental and applied problems in space biology and medicine. He has served as the chief medical specialist of the Russian Space Agency and has received numerous national and international accolades and honors for his scientific work.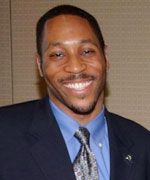 Dujuan Sevillian
Dujuan Sevillian was the winner of the 2015 Young Investigators Award. The winner of the 2015 SMA JM YIA is Dujuan Sevillian . His paper is entitled "Flight Deck Engineering: the Impact of flight Deck Crew Alerting and Information Systems on English as a Second Language Flight Crew Performance.". As a pilot himself, he understood their perspective and was able to convince them that he had their best interest at heart – a universal Flight Surgeon's principle. The paper underscores the importance of addressing differences in language and nationality between the potential flight crews during the design of the flight deck and in training of these crews. Growing up in Atlanta, Dujuan became interested in Aviation while studying Physics in high school. Motivated by his dreams to someday work in the Aerospace industry, he earned his bachelors and masters degrees at Embry Riddle University in Daytona Beach, also earning his private pilot's license, while working 2 jobs to support himself. He now works full time at Boeing while working full time toward his PhD in Human Factors at Cranfield University in Seattle. He is living the Dream!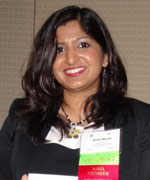 Anita Mantri
Anita received her Bachelor of Science degree in Earth Science from Rice University and is currently enrolled in an MD/PhD program in Biomedical Science at Texas A&M University. Anita has received a Mentored Space Life Science Research grant from the National Space Biomedical Research Institute, and is currently studying the modulation of bone response to exercise and disuse by stimulated oral contraceptive use in a rodent model. Anita is also an active member of AsMA, serving currently as President of AMSRO, the aerospace medicine student & resident organization.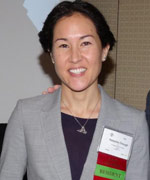 Natacha Chough
The 2015 Jeffrey R. Davis Scholarship was presented to Dr. Natacha Chough. Dr. Chough received her Bachelor of Science degree in Biology with Honors from the University of Washington and an M.D from the University of Michigan. She later completed residency training in Emergency Medicine at Stanford University, and is completing her aerospace medicine residency training at UTMB next month. Her performance during residency training has been outstanding. Dr. Chough's awards during her residency include the Society of NASA Flight Surgeons Outstanding Student award, the William K. Douglas Scholarship and TWO RAM Bowl championships. Natacha has an avid interest in International and Wilderness medicine and is a Fellow of the Academy of Wildness Medicine.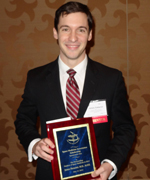 James Pattarini
The winner of the 2014 Wyle Scholarship is James Pattarini. He received his MD from the State University of New York at Buffalo and his MPH degree from the University of Texas Medical Branch. He is currently an Internal Medicine/Aerospace Medicine resident at the University of Texas Medical Branch. He has published research papers on a variety of physiology problems related to the Red Bull Stratos Free Fall Project and Commercial Spaceflight.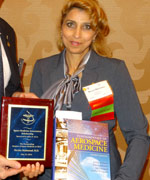 Nevine Mahmoud
The winner of the 2014 Jeffrey R. Davis Scholarship is Nevine Mahmoud. She received her M.D. from Cairo University in Egypt, has completed residencies in Pediatrics and Family Medicine and is now graduating from the Wright State University Aerospace Medicine Residency program. She presented research at the meeting on robotic neuro-prosthesis for pilot amputees. The Space Medicine Association Scholarship sponsored by Jeffrey R. Davis is awarded each year to a college, medical school, residency, or fellowship student. The purpose of the Scholarship is to encourage students who have demonstrated academic achievement and shown an interest in Space Biology and Medical Operations to further pursue a career in Space Medicine.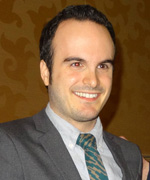 Rob Mulcahy
Rob Mulcahy is the winner of the 2014 Young Investigators Award with his excellent presentation given at this meeting, "Subject Anxiety and Psychological Considerations for Centrifuge-Simulated Suborbital Spaceflight".